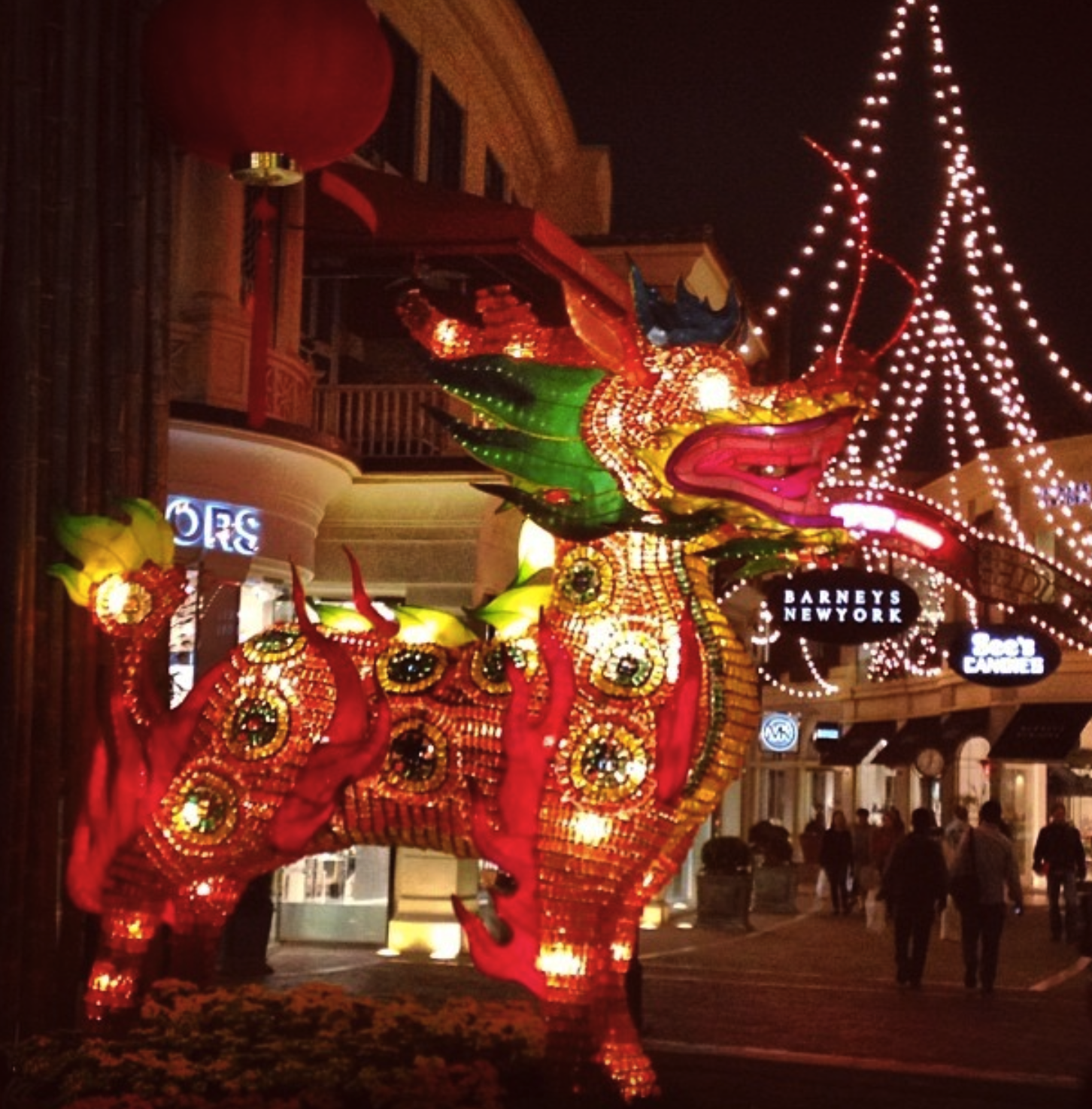 2014 Lunar New Year at The Grove & Americana At Brand
THE GROVE AND THE AMERICANA AT BRAND CELEBRATE 2014 LUNAR NEW YEAR
The Year of the Horse,
The Grove, Los Angeles
LOS ANGELES, Calif. (January 2014) –  The Grove and The Americana at Brand, Caruso Affiliated's premier retail, dining, and entertainment centers in Southern California, announce their plans for the 2014 Lunar New Year. Guests visiting these destinations will be able to ring in the Year of the Horse with traditional Asian performances, special festivities, shopping incentives, promotions, and stellar décor installations.
Both properties will feature iconic Chinese décor conceptualized by Stephen Stefanou of Venue Arts from January 24 through February 16. Hand-formed fan sculptures, brilliant red Chinese New Year lanterns, giant Moso bamboo poles, Qilin Foo Dogs, and a bright horticulture garden can be seen at The Grove, and an oversized hand-painted God of Prosperity statue costumed in vivid Asian-styled textiles, brilliant red Chinese New Year lanterns and bright horticulture will be on display at The Americana at Brand. For the first time ever, The Americana at Brand will also turn its fountain red for Lunar New Year, along with nightly fountain shows at 7:00 and 8:00 PM choreographed to "Give Me a Kiss" by Wan Fang.
On Saturday, February 1 from 12:00 – 3:00 PM, The Americana at Brand will be transformed into a grand celebration of cheer and good fortune with a Happy New Year Parade including traditional lion and dragon performances, Chinese and Korean folk dancers, stilt walkers, drummers and more.  A Chinese dragon dance to scare away bad luck while welcoming good fortune to all, cultural acts with dancing ribbons, fans, swords, masks, and powerful drums will be on The Green following the parade. Mixing modern culture with festival tradition, popular Asian American singers Jason Chen and Clara C will also perform live.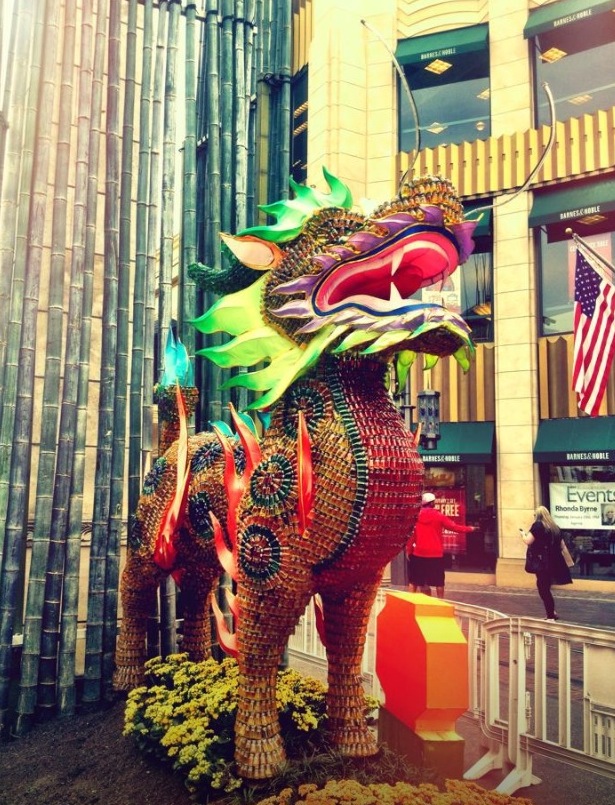 Between performances, guests can visit complimentary craft stations to experience lantern-making, coloring, face-painting, and more. Calligraphy artists will be on-hand to give away horse paintings and lucky Chinese characters on traditional red diamond paper. Fresh flowers and plants will be available for sale for as a symbol of good luck in the New Year.
Guests will have the opportunity to test their luck with traditional Chinese red envelopes which may contain cash prizes or gift cards from January 24 through February 16.
In addition to the décor package at The Grove, guests will have the opportunity join in the fun at The Grove's Lunar New Year Kids Club, taking place Thursday, January 30 from 11:00 AM -1:00 PM on its central landscape, The Park. The special Kids Club event will feature drumming and a lion dance from the Taiko Center of Los Angeles (TCLA), calligraphy lessons, and storytime from Pottery Barn Kid's Lunar New Year collection.
Sprinkles Cupcakes at The Grove will sell Lunar New Year inspired cupcakes from January 31 to February 2. Pottery Barn Kids at The Grove will offer 10% off entire purchase on January 30 for Lunar New Year Kids Club attendees. Shoppers simply need to mention "Kids Club" to a Pottery Barns sales clerk to receive the discount.
Caruso Affiliated thanks the Asian community for their support by celebrating this important occasion together. On a yearlong basis, Caruso Affiliated embraces tourism programs and offers savings passes, gifts with purchases, hotel package delivery, personal shopper appointments, and concierge services in different languages. Both The Grove and The Americana at Brand launched its China UnionPay credit and debit cards—creating a seamless onsite experience for travelers.  Caruso Affiliated properties also have Mandarin-speaking Concierge Services & directories to assist guests.