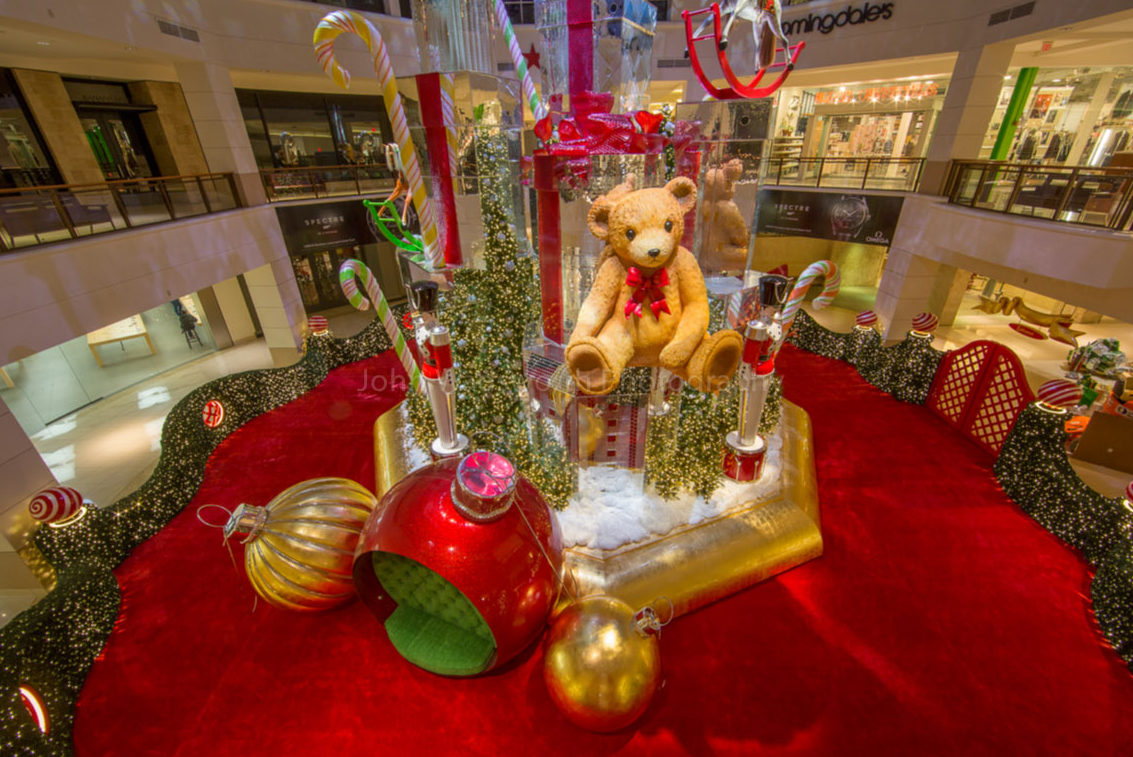 2015: The Santa Experience at Aventura Mall
A totally new Santa Experience awaits the holiday guests at the Aventura Mall this holiday season. Stephen Stefanou of Venue arts designed the set to be a modern experience inspired by fashion, luxury and art.
A 60-ft tall composition of sparkling mosaic-mirror stacked gift boxes of all sizes and shapes, individually wrapped in exquisite hand-sculpted brilliant red synthetic-glass ribbons and giant bows, sets the stage at Aventura mall in anticipation of Santa's visit. Each giant gift box is finished in mirror mosaic with raised details to reflect and refract the lighting and movement of the space, creating a magical animated effect.
The mountain of gift boxes sits on a hand-applied gold-leafed platform outlined in sparkling evergreen trees and is crowned with a rotating 12' mosaic-mirrored 14-point Millennium Star.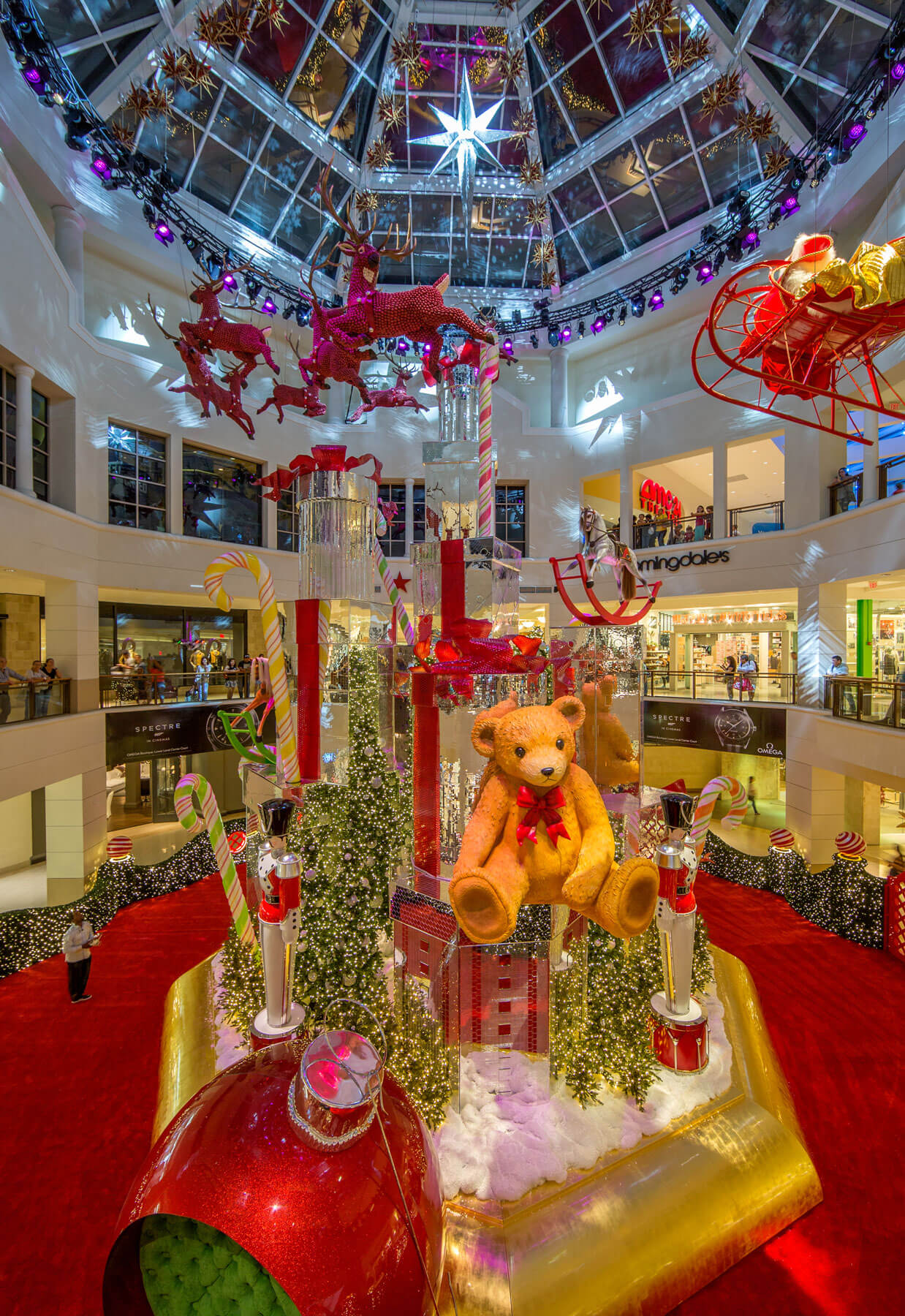 A storybook 19th-century Santa sleigh, navigated by eight pecan-clad reindeer, flies above the gift boxes as it transports more gift boxes filled with holiday cheer. Each reindeer, weighing approximately 500 lbs., is hand-sculpted and clad in unshelled pecans, then crowned with magnificent faux antlers. Their eyes, hooves, and nose are designed of white sweet rice, brown flax seed and black onion seed. A beautiful red leather harness adorned with sleigh bells wraps the chests of the reindeer and tethers the group of eight as they glide above the crowds.
An authentic Albany sleigh, developed by James Gould of Albany, NY, is revived with holiday-red lacquer, red velvet upholstery accented with Tibetan lambskin, using characteristics gold leaf and applied mirror details. The sleigh's distingof sweeping lines and a rounded swelled body made it the most popular of sleigh designs during the carriage era. Its aesthetics and charm has made it a sought-after collector's item still to this day.
A wish-list of coveted classic toys accent the display: Two cuddly and adorable teddy bears, one golden blonde and one warm brown, sitting 10-ft tall are hand-sculpted and hand-painted in the classic and immensely popular style of the handcrafted Steiff bears. Each bear dons a hand-sculpted brilliant red or green bow.
Two classic English-style rocking horses standing 00-ft tall revive the ageless tradition of the wooden toy rocking horses that have been adored by children for centuries. The Palomino-style and Appaloosa-style rocking horses are both hand-carved and hand-painted in the traditional realism style as seen in the British market.
Giant 13' colorfully striped candy canes accent the set and titillate the taste buds in their delicious hand-painted colors of mint, cherry & lemon.
Against this spectacular backdrop, Santa makes his debut in a unique and grand way!
Santa is presented in a magnificent brilliant-red 10-ft diameter holiday ornament customized with button-tufted green velvet upholstery, creating a unique Santa throne. The spectacular wide-seat throne is displayed in a composition of other giant holiday ornaments ( 8' & 4') finished in hand-applied gold leaf creating the perfect photo-op for the family photo…. a delightful way to remember this year's holiday season!
Four 12' toy soldiers in full regalia add a ceremonial touch and are reminiscent of the Nutcracker Ballet as they stand at attention atop toy drums on the platform's 360-degree surround.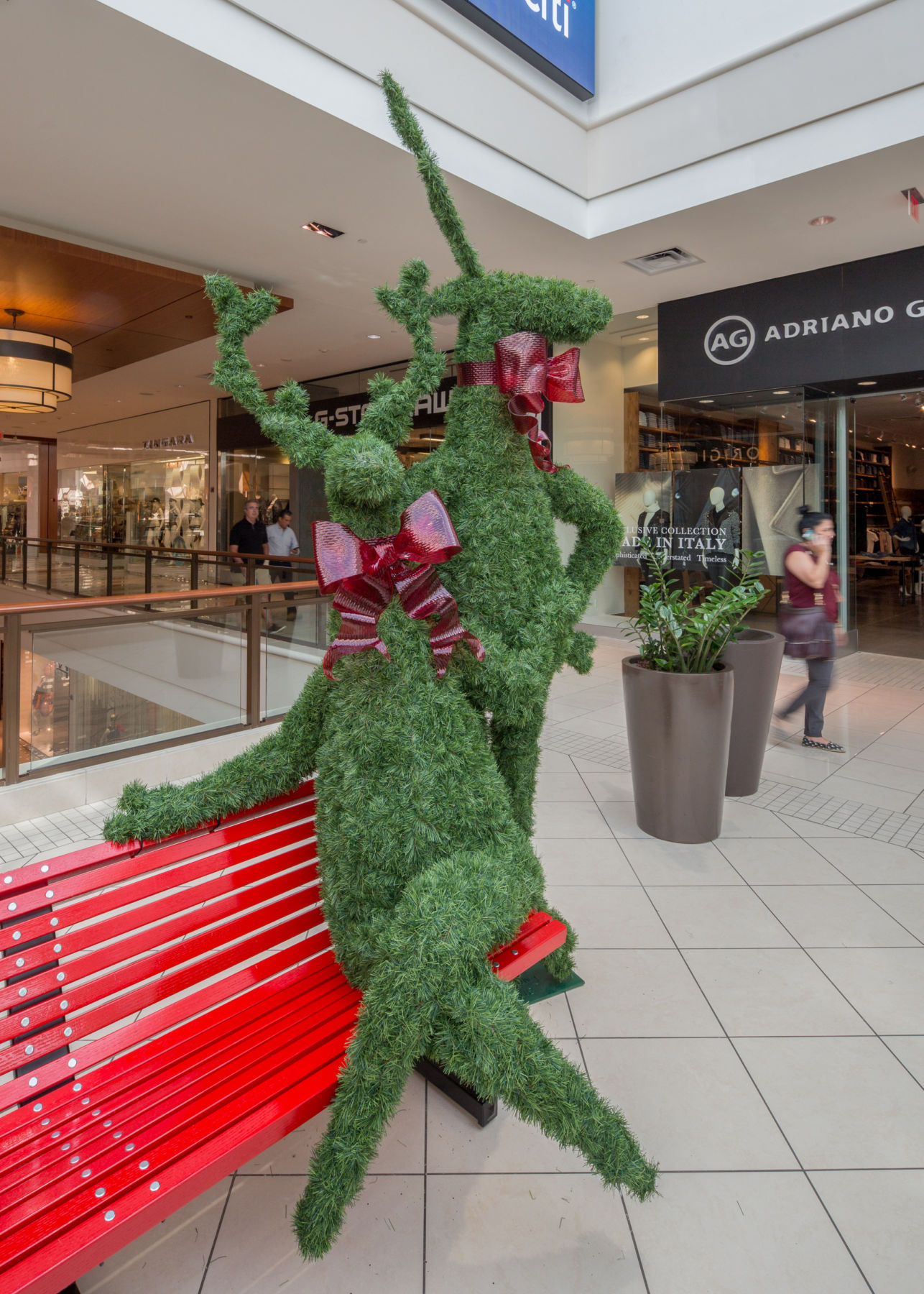 The entire Santa Experience is framed with a holiday hedge inspired by Edward Scissorhands himself. The plush faux-evergreen undulating octagonal hedge is adorned with sparkling holiday mini-lights and candy finials, plus lattice windows on each panel that allow the anxious youngsters a sneak peek of Santa.
Excitement awaits you at the Aventura Mall!
Creating 'must-see' destinations! Venue Arts 8607 Ambassador Row, Suite 100 Dallas, TX 75247 USA 214.871.0801 FAX: 214.637.1882 www.VenueArts.com