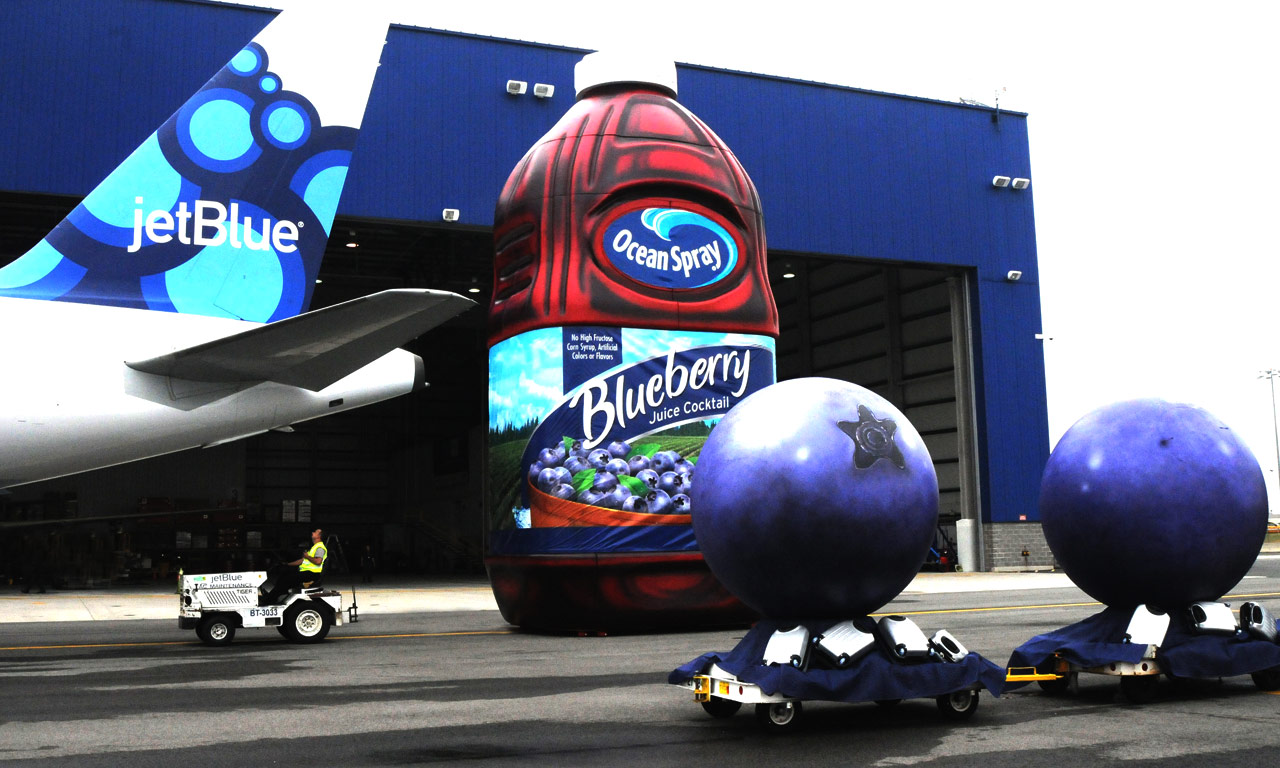 Ocean Spray and Venue Arts
It's a bird, it's a plane, it's … a blueberry juice cocktail bottle designed and built by

Venue Arts, Dallas, TX.

Travelers at New York's John F. Kennedy International (JFK) airport got a big surprise as crewmembers from hometown airline JetBlue Airways marshaled in the arrival of a 24,000 lb, 38 ft tall blueberry juice cocktail bottle with the airline's latest Airbus A320 livery design, "Blueberries," to commemorate the introduction of Ocean Spray's first Blueberry product line.

The new line of products which includes Blueberry and Blueberry Pomegranate Juice Cocktails, Craisins® Blueberry Juice Infused Dried Cranberries, Blueberry Sugar-Free Drink Mixes and fresh blueberries is a first for the juice category leader. Throughout the month of July, customers onboard JetBlue flights will have an opportunity to sample the tasty new line of juice and Craisins® dried cranberries as part of the airline's complimentary line-up of unlimited name brand snacks and drinks.

"We took the best of what we do for the cranberry and brought it to a new superfruit," said Larry Martin, Vice President of Marketing for Ocean Spray. "Now consumers can enjoy the refreshing taste of summer-ripened blueberries year round."

"JetBlue is constantly looking for ways to enrich the customer experience – on the ground and in the air," said Marty St. George, senior vice president of marketing and commercial strategy for JetBlue Airways. "The partnership with Ocean Spray allows us to work creatively with another leading brand to provide an experience that goes above and beyond our customers' expectations."

Bottle Fun Facts

The average 64 ounce bottle of Ocean Spray Blueberry Juice Cocktail is 10 inches tall. Check out the stunning proportions of Ocean Spray's latest attraction below:
38 ft – the height of an Airbus A320 aircraft or a four story building
24,000 lbs – the average weight of a city bus
54,000 gallons – the number of gallons of Blueberry Juice Cocktail the bottle could hold if filled.