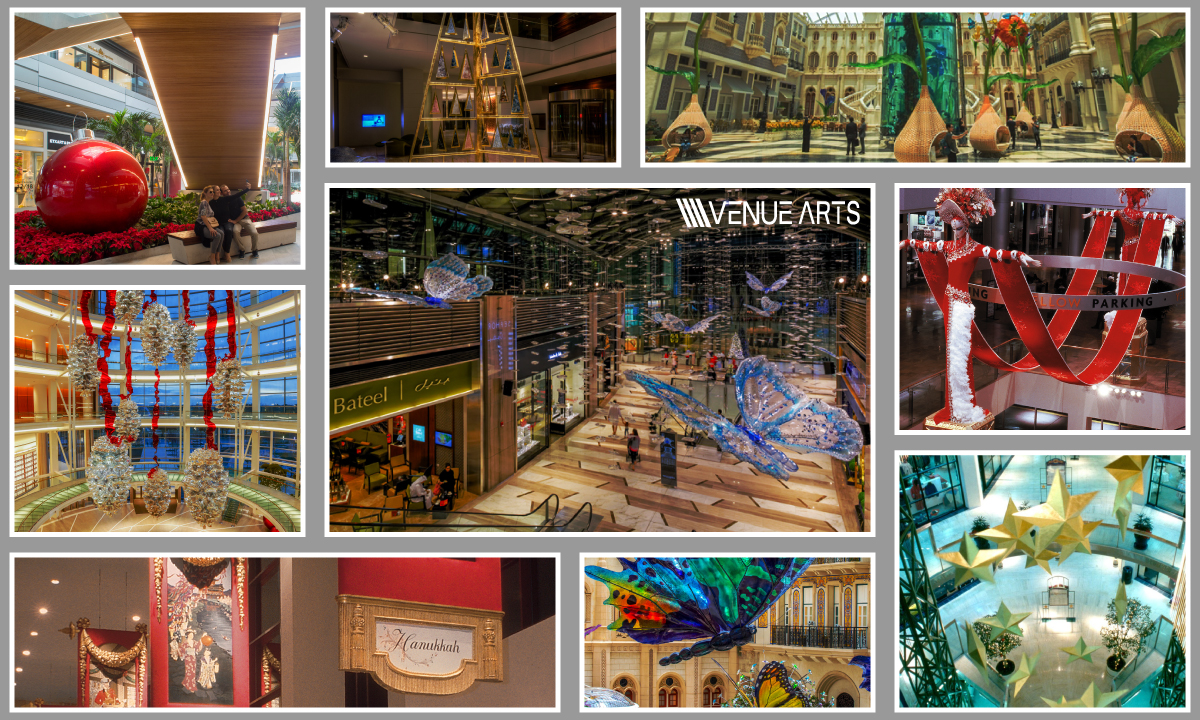 Shopping Mall Installation Art
Shopping Mall Installation Art is an amazing way to get shoppers offline and into your stores. Pull people away from the "add to cart" button and into your mall. Shopping malls are massive, and they draw crowds by the thousands every year, especially on the busiest shopping days of the year. For decades, malls have also done something a little out of the ordinary. They have engaged in public display art, hiring mall decoration companies and local artists to produce installation art that is put on display in all the open and blank areas of the malls.
What is the purpose of a mall acting as a Venue Arts display location? Why would any mall owner want to put production art in key locations around the mall? There is actually a multitude of reasons for malls to engage in art displays. If you own or manage a shopping mall, here are the valid reasons why you might want to offer display space to local artists and mall decoration companies.
Bare Malls Are Boring: Shopping Mall Installation Art Pops!
Think about it for a second. How many times have you seen bare walls in a hospital or other business location and thought, "Ho-hum. It's boring in here."? That is exactly what customers are thinking as they stroll through a plain shopping mall with only the boutiques decorated to attract customers. Tons of blank wall and blank floor space is uninteresting. It does not engage customers visually, and a disengaged customer is one that does not stay to shop. The more visually stimulating a mall's décor is, the more people browse and buy, and that is exactly what you want. Shopping Mall Installation Art becomes a main focal point that is photo-worthy and that can glam-up your mall!
Art Encourages Shoppers to Consider Unique Gift Ideas
Shoppers are not all experts in the area of gifting. Some will buy the same dull and uninteresting gifts for people they know year after year. Sure, they may purchase those items at your mall, but eventually, they will not find these items and will begin to look elsewhere for gift giving ideas.
If you have lots of unique art installed around the mall, it sparks creativity and imagination. It encourages these seemingly uncreative individuals to think about their gift-giving habits in a new light. When these artworks are also for sale, then these shoppers become excited about buying something particularly unique to give as a gift!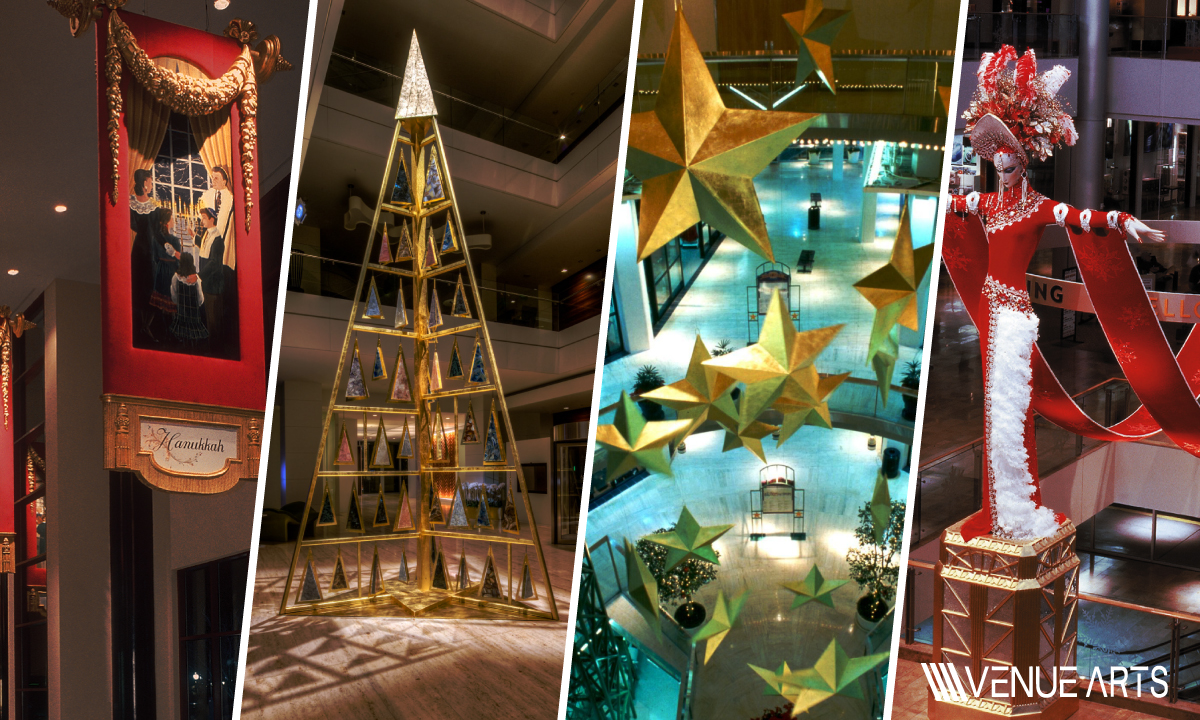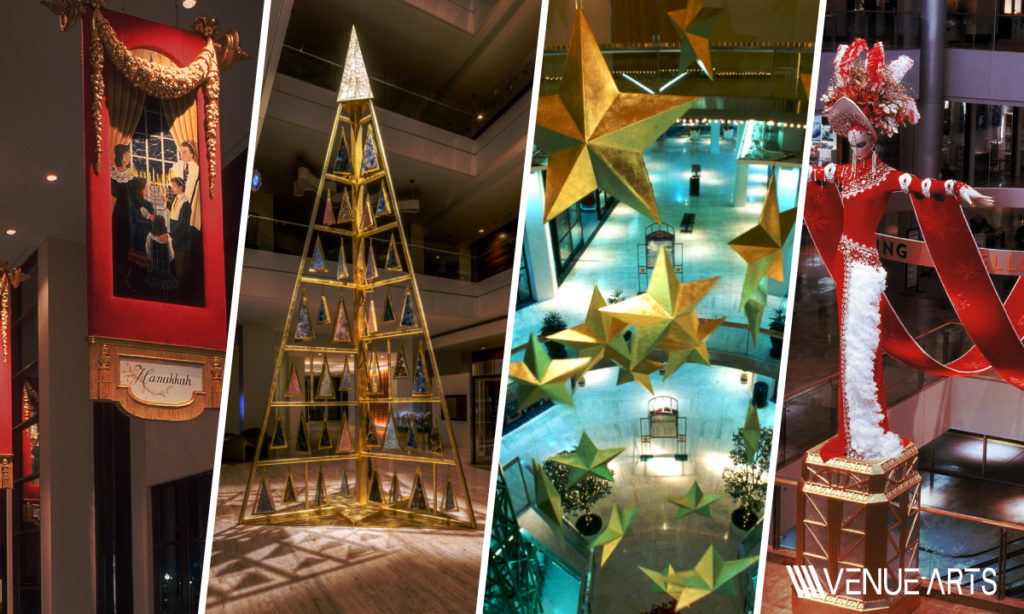 Artistic Focal Points in the Mall
Large Scale Installation Art and Production Art Can Be Focal Points in the Mall. Some malls have fountains. Others may have massive holiday trees toward the end of the year, and nothing else the rest of the year. Others have nothing at all! If you do not have a fountain in the center court areas or in the food court area of your mall, and you are not likely to erect a holiday tree all year long, then consider some large scale art pieces.
You can see for yourself what these are like with the Rockefeller Center exhibit that is on display and changes often. The Rockefeller Center exhibit is just one of the many public venue arts examples that show what these large scale exhibits could be like in your mall. There could be new public display art in the wide-open spaces and courts or square spaces within your mall all year long, and new pieces mean a bigger customer draw. Customers would want to see the new art, they would come to see the new art, and then they would stay to shop or eat!
Three Words: Social Media Exposure
Additionally, with all of the mall customers who post things they like on social media, and the social media influencers, your mall and its venders/shop owners and restaurant owners can get a lot of exposure. Artists would get even more exposure because interested customers will post pictures of the artworks on social media. If you do not have someone creating and maintaining a social media presence for your shopping mall, and all you have is the mall's basic website, then the posting and sharing among customers far and wide of the art on display in your mall could really strengthen your mall's social media and internet presence.
For more information about large installation art and other display art ideas for shopping malls, see what Venue Arts can offer your business or organization.