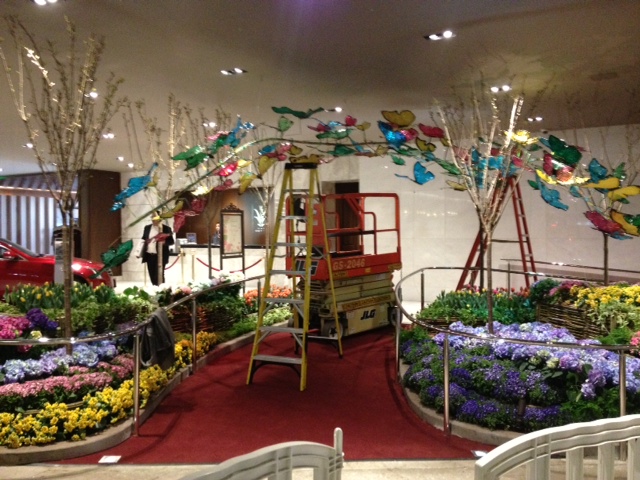 The Grove's Changing Seasons
The Grove in Los Angeles is one of the many shopping centers whose seasonal displays are designed by Venue Arts. Have you ever wondered how our ideas go from conception to the creation and then finally, completion? Here's a look at the changing seasons at The Grove, including photos from different stages of the development process, and a first look at the latest summer display, being installed now.
WINTER HOLIDAY DISPLAY

You may remember this holiday video from our website. Here's a look at how our designs are brought to life once the designing and installation is complete.

SPRING BUTTERFLY DISPLAY

If you've recently visited The Grove, perhaps you got a glimpse of the French-styled garden in the valet area with the butterflies swarming above the walkway. Can you believe it all started with a simple sketch?

Sketches by Stephen and the Design team are made and presented to the client for approval before the different elements of the display are created.

This photo was taken by someone from the production crew directly after The Grove Spring display was finished being installed

SUMMER CELEBRATION DISPLAY

The summer installation includes two parts. The first is a giant pinwheel display for the angel statue garden, complete with colorful patriotic-themed graphics in salute to our nation's popular patriotic summer holidays.

The team began by presenting the client with this sketch later was later used a as guide. The pinwheels were then hand-formed with alternating translucent and opaque synthetic glass, and hand-painted in the detailed designs seen on the finished display below.

The second part of the Summer installation is the Whimsical Watering Cans display, which will replace the Spring display in the valet area of the shopping center. Four galvanized steel watering cans, each 4-ft tall, utilize a recirculating water system that spills into a hidden pool in the garden below.